Property Connect is a flexible, digital property platform that takes the hassle out of the rental process. The platform makes it easier for property managers and landlords to intelligently and quickly rent properties, while empowering tenants to move in seamlessly.

How Property Connect works for the Property Manager and Landlord:
How much should I rent it for?
The property manager lists the property on Property Connect, outlining the required details. Now, landlords and managers can take the guesswork out of pricing by tracking live offers for the property from prospective tenants. This means much shorter vacancy times as well as fluid, transparent pricing, truly reflecting market demand.
How good are these tenants?
Managers can feel safe in the knowledge that we highly pre-qualify the best available tenants. Property Connect run background checks on every renter registered on the platform. Much less work for you and that all important peace of mind for landlords. As tenants can place bids for a weekly rental price, possible move in date and length of term. Property Connect can calculate what is the best financial outcome for the landlord, and rank the offers accordingly.
Manage All the Nitty Gritty Through the Dashboard
Above all, Property Connect offers the ongoing ease that all contract processes can be managed online. Say goodbye to all that paperwork and time wasted. From booking an inspection to awarding the lease, collecting the holding deposit and bond; all of that can all be done online, through Property Connect.
Never Miss an Opportunity
Managers can also promote the property to the market via social media, email or in person on inspection day on any of their devices. It's a promotional tool whenever you need it. The digital marketing insights generated from the site mean tenants can be re-marketed and approached with targeted promotions and notifications making sure you're talking to the right market, ready to rent.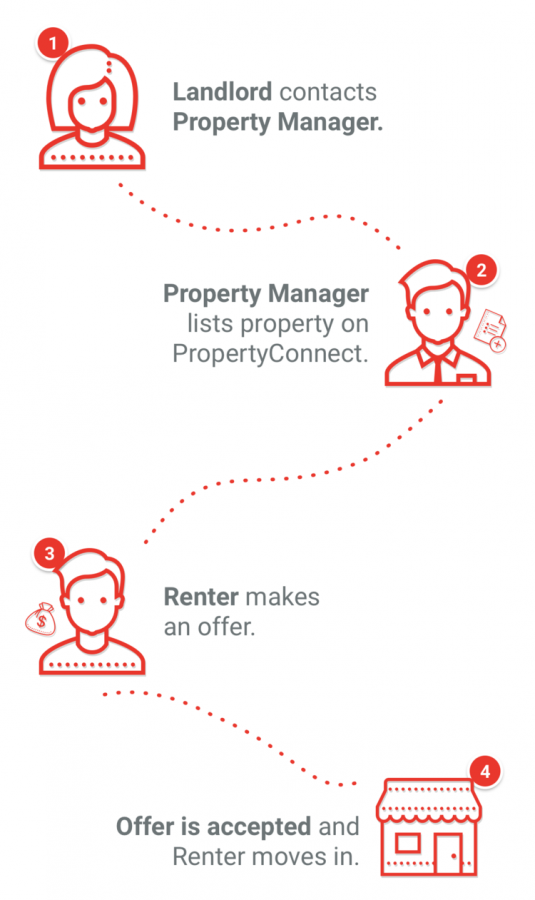 How Property Connect works for the tenant:
One Application Needed
Currently tenants need a library of updated documentation to present their credentials to agencies each time they source a possible rental. Now they can sign up and pre-qualify before making any offer. They can also make simultaneous, multiple offers at any time and in case they have a change of heart they can simply withdraw any application.

One Place to Manage Everything
Again, Property Connect offers the ongoing ease that all communications from tenant to manager can be handled in the one place, online, through a dashboard. This includes energy, phone and water connections, paying the rent, lease renewals and any reason at all to contact the agent. Renting has never been this simple. Visit Property Connect