Wondering how to achieve a kitchen renovation on a budget? Below, we'll talk you through the costs involved in renovating a kitchen on a budget as well as sharing value adding kitchen features that can increase the value of your property.

Here's how to achieve a kitchen reno on a budget
The price of a kitchen renovation depends entirely on the size and level of luxury you'd like to achieve. A kitchen renovation can cost you anywhere between $10,000 for budget and $100,000 for luxury kitchen renovations.
How much does it cost to renovate a kitchen?
Revamping your kitchen can cost you the following:
| | |
| --- | --- |
| Budget kitchen renovation | $10,000 - $25,000 |
| Standard kitchen renovation | $25,000 - $50,000 |
| Luxury kitchen renovation | $50,000 - $100,000 |
Budget kitchen renovations
If you simply need to give your kitchen a refresh, you can do this at a very low cost and even do some of it yourself.
DIY kitchen reno ideas
If you'd like to update your kitchen yourself, it's important to understand the power of paint. When renovating your kitchen yourself, you can use paint to:
Freshen up the cabinets

Lighten up the room by painting the walls

Paint the bench-tops and add a glossy top coat

Touch up window frames

Freshen up existing tiles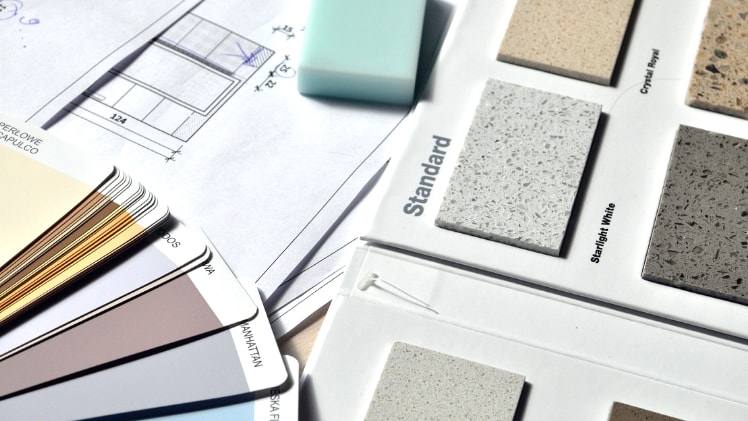 Low-cost upgrades
Without making any structural changes, you can still make a big difference in the appearance of your kitchen.
Below are some cost estimates of features you can update on a budget:
| Feature | Cost estimate |
| --- | --- |
| Tap ware | $150 - $300 |
| Flooring (vinyl) | $50 - $100 per square metre |
| Lighting (pendant) | $60 - $200 each |
| Lighting (downlights) | $25 each - 13W LED downlight kit |
| Cabinet and drawer handles | $5 - $30 each |
Next, you'll have to think about the tradespeople you'll need to hire to install the features. Electricians and plumbers can cost you between $60 – $80 per hour. But costs may increase depending on what you're asking them to install.
Flat pack kitchens
If you want to completely redesign your kitchen, a flat pack kitchen solution could be a cheaper alternative than designing and building a new kitchen from scratch.
Flatpack kitchens are modular and can fit into almost any space. You can purchase a flat pack kitchen for somewhere between $2,000 and $12,000. You can purchase them from furniture suppliers such as IKEA, Bunnings and Freedom.
If you're redesigning your kitchen and getting a builder to change the entire structure, you'll need to think about the cost of a draftsperson to draw up the floor plan and the various tradespeople you'll need to build it.
Selling? Here's where to splash the cash in the kitchen
If you're putting your property on the market, buyers are going to test out every working part of your kitchen. So, it's important to ensure every feature operates as it should. Below are some ideas on what to renovate to ensure you impress buyers in your kitchen.
Ensure top-notch drawer quality
Think function over fashion. Buyers are going to open drawers and cupboards, so before you think about design and colour, be sure to ensure your hinges and runners are working well.
Add some storage space
You can never have enough storage space in the kitchen. If you don't already have one, you could think about adding in an island bench. This allows for ample storage, but also additional bench space. If you have spare wall space, you can easily add shelving or hanging ranks too.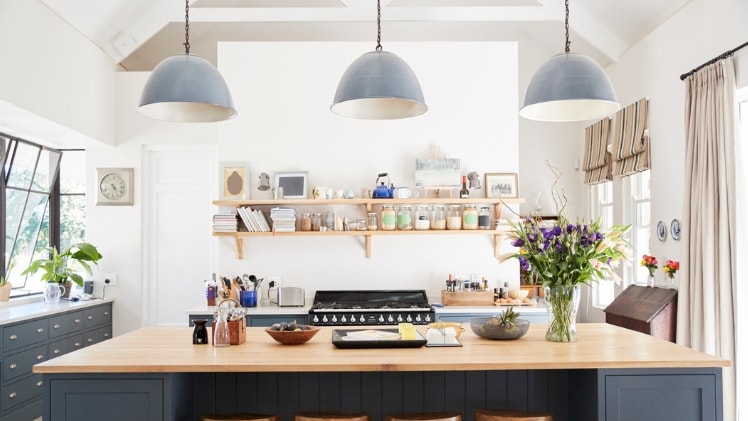 Replace the bench tops if they're worn
If your benches are looking a little outdated or are slightly damaged, it could be a smart idea to update your bench top. If you don't want to spend too much money, you can use materials such as hard-wearing laminate, which can be used to replicate luxury materials like marble or granite.
Tiny features
It's easy to forget about features like powerpoint covers and light switches. You can modernise your kitchen at a low cost by updating features like these.
Choose your colour palette wisely
Every buyer has different taste. So, while it's important to style your kitchen in a way that you feel is attractive, leaving a blank canvas can often attract even more buyers than if you spend money on trendy features which may in fact turn some buyers away. Buyers can then style the kitchen their own way. 
The mistake of overspending
It's important not to over-capitalise when you're renovating your kitchen.
Over-capitalisation means spending too much money on renovations, improving the property beyond its resale value and not being able to recoup the amount spent upon sale.
Before you start your kitchen renovation, be sure to ensure your proposed kitchen renovations won't make the rest of the house look unappealing. For example, if you're willing to spend $20,000 on a kitchen renovation, perhaps redo your budget and spend $12,000 in the kitchen and $8,000 in other areas of the house. This should increase the level of buyer interest.

What's next?
If you're renovating your kitchen ahead of selling, a good place to start is talking to a real estate agent. They can tell you what buyers in your area are looking for in terms of kitchens, and give you suggestions on improvements you can make to attract more buyers. You can compare real estate agents in your area here.